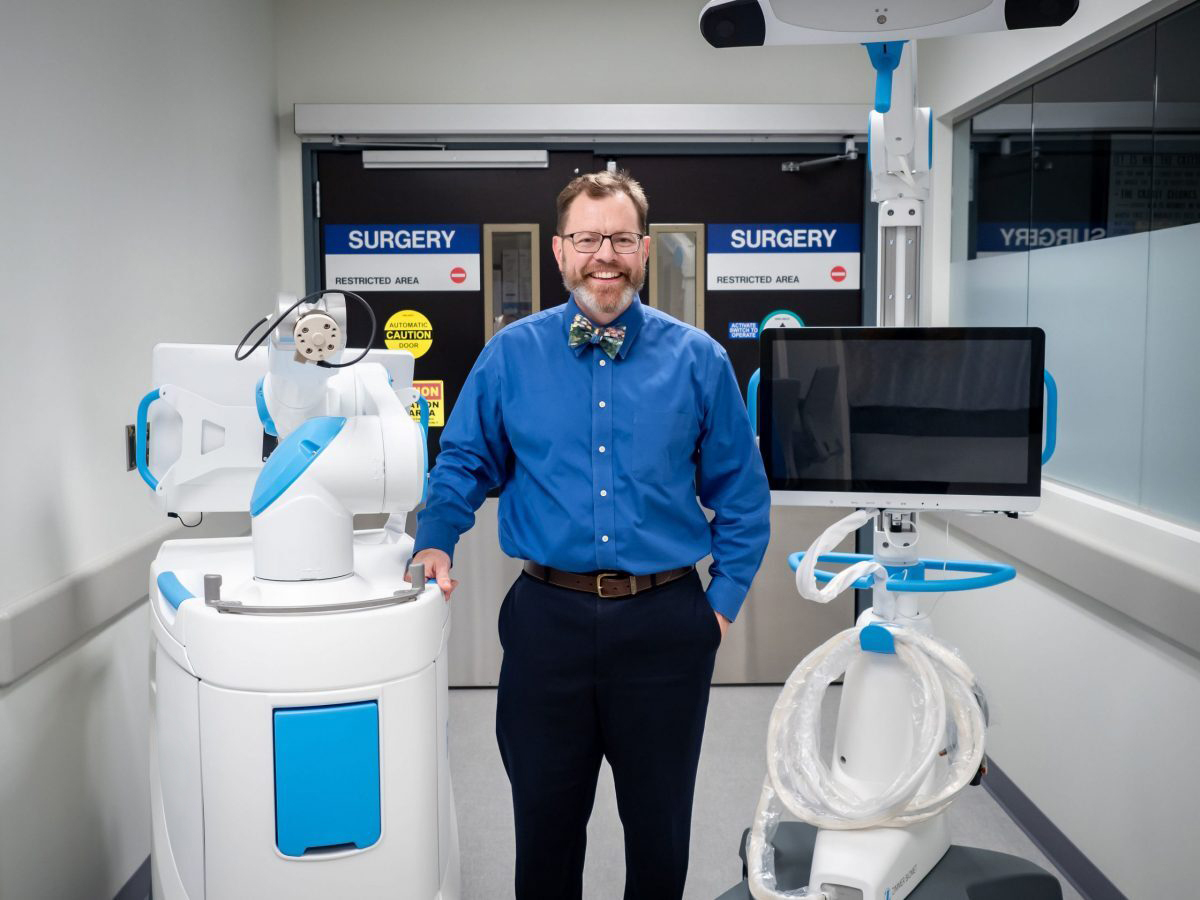 With 12 locations throughout southeastern North Carolina, EmergeOrtho's Coastal Region serves hundreds of thousands of patients in our area—and at least one from the distant West Coast.
Jean Hendricks, from Bethany, Oregon, was in Leland, NC, in mid-March of 2022, to attend her brother-in-law's funeral. While visiting with people after the service, Jean struck up a conversation with one of her sister's neighbors.
"He had just had a robotic knee replacement with Dr. Lescault two weeks prior and was walking around with a cane and doing so well," said Jean, who was overdue for a knee replacement herself. "Talking with him, I became intrigued by the advantages of robotic surgery, so I made an appointment to see Dr. Lescault while I was in town."
EmergeOrtho's Eric J. Lescault, DO, is among the region's leading joint replacement surgeons, having performed more than 400 Mako total and partial knee replacements in a year and a half. Seventy percent of his patients go home the same day with an all-internal suture technique and waterproof dressing, with zero infections to date.
A retired registered nurse, Jean had suffered from osteoarthritis since 2011. She had a consultation for a traditional open knee replacement in Oregon in the fall of 2019, but had to postpone that operation for a more pressing abdominal surgery in January of 2022, which itself had been postponed for a year because of COVID-19 protocols. Jean explained that the gastrointestinal and gynecological issues that precipitated the abdominal surgery caused chronic urinary tract infections, as well as reactive arthritis, making the pain in her knees even worse.
"I could hardly walk and had trouble getting up and down stairs or a single riser," she said.
After recovering from the abdominal surgery, her knee pain improved slightly, "but it was still in bad shape," she explained. She described her functional status at that time as disabled. "I had very limited mobility," she said. "I still needed to use a walker to get around and was barely able to even clean my house."
On top of that, Jean has poor kidney function so the only pain reliever she could take was Tylenol, which did little to alleviate the persistent pain.
After consulting with Dr. Lescault on April 1, robotic total knee replacement was scheduled for June 1, 2022. Jean said almost immediately after she woke up from surgery, she noticed an improved range of motion in her knee.
"Dr. Lescault is a very nice, very positive person," she said. "He told me exactly what would happen. In fact every person I met along the way, from Dr. Lescault's office to the hospital to physical therapy, has been so kind and treated me with respect. They were all on the same page to get me better."
Just one month out, she is able to walk with a cane, her balance is much better and she says she doesn't have pain anymore, just a bit of discomfort that is improving all the time.
"I am truly flattered that she was able to see the added value of having a robotic-assisted procedure," said Dr. Lescault. "It certainly paid off for her. Her overall positive experience with EmergeOrtho, above and beyond the robotic surgery, is our goal for every patient, every time. The fact that somebody would come all the way from Oregon is very humbling."
"I'm now able to put full weight on that knee and walk up and down stairs one leg at a time like a normal person, something I haven't been able to do in years," she pointed out. Jean has also been to the beach with her sisters and has enjoyed swimming in both the ocean and the pool, pain-free.
"I feel very fortunate to have been at the right place at the right time," she said of the chance meeting with her sister's neighbor. Now that her left knee is in such good shape, she is having Dr. Lescault do a robotic replacement on her right knee in 2023. "It might seem like a lot to come across the country for surgery, but it's worth every penny," she said.
In the fall of 2021, Jean sold her house to move closer to her daughter and is looking forward to returning to Oregon and spending time exploring her new community in a way she could not before the surgery.
The self-described "75-years-young" Jean says she is now up for anything that comes her way. "It's an adventure," she beamed. "Maybe I'll do a little traveling, get involved with some volunteer work in the community. Now that I'm mobile and not in pain, I'm a new entity. I really feel like I can do anything. I'm happy to tell my story if it encourages others to look into doing it, too."
Robotic hip and knee surgery can now be performed at Brunswick Surgery Center, Dosher Memorial Hospital and Novant Health Orthopedics Hospital. Ask your provider for more information.