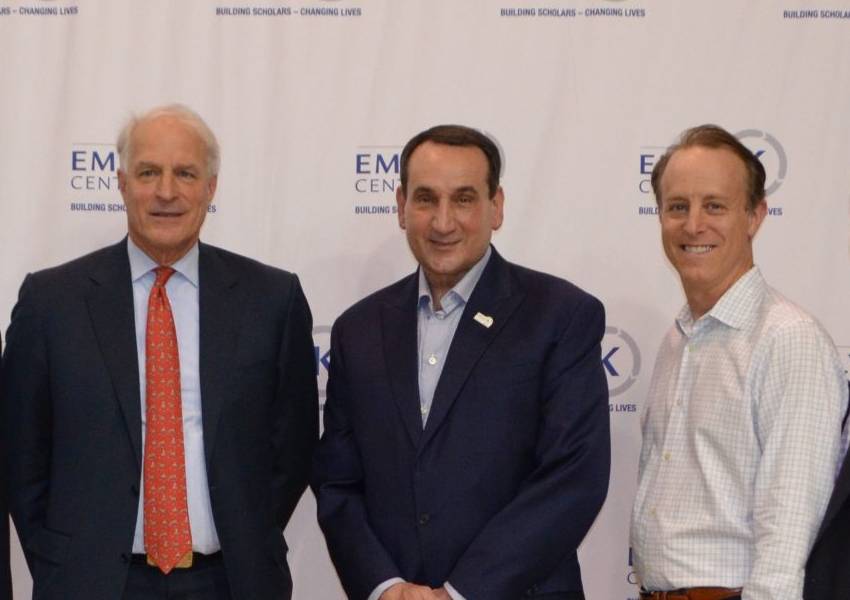 Pictured above from left to right: Dr. Thomas Dimmig, specializes in spine medicine, Coach K, and Dr. David Musante, President of EmergeOrtho-Triangle and spine surgeon.
Emily K Center is Particularly Special to EmergeOrtho
EmergeOrtho is proud to be involved in many organizations in the greater Triangle area, but the Emily K Center is particularly special to us. This Durham non-profit is dedicated to breaking the cycle of poverty by providing out-of-school programming to academically-focused students in our community. Each year, Triangle Orthopedics, now EmergeOrtho, is a sponsor of the Emily K Ball. As one of four Platinum Sponsors of the annual fundraiser, EmergeOrtho was invited to an additional event with Coach K.
We've been practicing Orthopedics in the City of Medicine since 1952, and many of our physicians obtained their undergraduate and medical degrees from Duke, or completed residencies and fellowships there. So this means that we have a lot of fans of Duke Basketball!
Coach Mike Krzyzewski is the founder and inspiration of the Emily K Center, established in 2006 and named in honor of Coach K's mother, Emily. The space also serves thousands of students and community members each month with Center's multipurpose rooms, the 2001 Final Four floor that serves as their gymnasium and the performance stage!