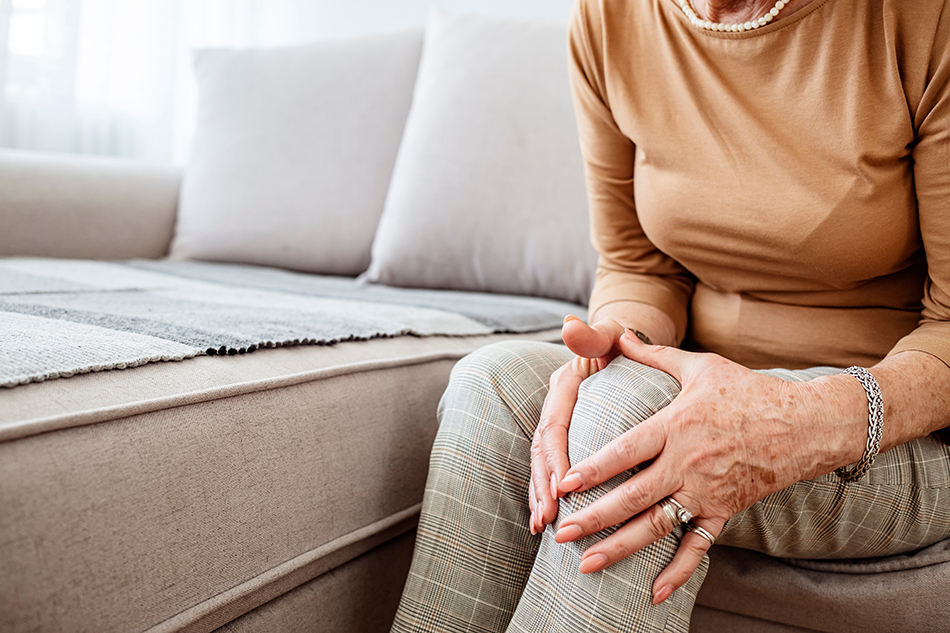 More than 700,000 knee replacements were performed in the U.S. in 2017, and the number continues to rise. If knee replacement is in your future, you should know there are things you can do to positively affect the outcome of your surgery. We have put together a simple list of measures you can take prior to your surgery, as well as a list of what to do—and what not to do—after your knee replacement, all to help optimize your recovery.
Pre-Surgery Prep List
Modify Your Home
There are a few modifications that can make it easier for you to navigate your home during recovery: move your bedroom to the first floor, remove unnecessary obstacles out of your way, and keep essential items where you can easily access them.
Get a Cane or Walker
You will need some support with walking after your surgery to avoid falls, slips, and other accidents. Using a cane or walker in the days and weeks immediately following your surgery will provide adequate support for your recovery.
Ask for Help from Family or Friends
Although you will be able to get around after surgery, you may need the help of family or friends for several weeks to assist you with simple daily tasks like cooking, shopping, and bathing.
Consult Your Doctor
Consult with your surgeon and physical therapist to fully understand the timing and protocols of your recovery process, so you are prepared to maximize the outcome.
After-Surgery To-Do List
DO:
1. Follow Your Surgeon's Instructions
It is essential to follow your surgeon's discharge instructions for your optimum recovery. Instructions may include wound care, exercise recommendations, and precautions to avoid infection or additional injury.
2. Elevate Your Knee
After knee replacement surgery, it is important to elevate your entire leg, down to the ankle, to avoid swelling. When elevating, your feet should be above the level of your heart and as straight as possible.
3. Ice Up
Swelling after total knee replacement can last several months. Use ice packs three to four times a day for about 10-20 minutes after surgery to reduce swelling, inflammation, and pain.
4. Care for your Wound
You will have stitches or staples running along your knee wound. It's important that the wound does not stay wet until it has thoroughly sealed and dried. A bandage on the wound can help avoid dirt and irritation.
5. Maintain a Healthy Diet
Some people experience a loss of appetite after surgery. Maintaining a balanced diet and overall healthy lifestyle helps your wound heal and your knee restore muscle strength.
6. Follow Your Exercise Plan
Your exercise program is critical in the first few weeks after surgery. Your activity program should include exercises you can do at home by yourself—and exercises you do with your physical therapist. When done correctly, proper exercise will help you regain movement, strength, and balance—enabling you to resume the activities you enjoy.
After-Surgery Not-to-Do List
DON'T:
1. Don't Participate in Contact Sports and Stressful Exercises
Avoid sports that involve twisting and jerking of the knee or high-impact exercises that add stress to the knee, including:
Football

Soccer

Basketball

Baseball

Gymnastics

Running

Jogging

Aerobics Classes

Weightlifting

Skateboarding
2. Don't Sit for Long Periods of Time
Sitting for extended periods increases the risk of blood clots and additional swelling following surgery. It is recommended that you don't sit for more than an hour at a time unless your leg is elevated.
3. Avoid using stairs excessively
You will want to limit stairs to only those that are necessary around the home immediately after your knee is replaced. Your therapist will work with you and make sure you are safe on the stairs prior to discharge.
4. Don't Walk Without a Cane or Walker
To maximize your recovery, you should minimize any risk of falling or additional injury. Walking without a cane or walker to support you increases your chances of falling.
5. Don't Drive While on Meds
Though you will not resume driving immediately after your surgery, you may still be taking some meds when the time comes. Driving while taking pain medication is extremely dangerous.
6. Don't Ignore Excessive Pain
You will experience some post-surgery pain your doctor will help you manage. If you experience excessive pain or swelling that cannot be managed at home, immediately call your doctor.
We have provided these lists of what to do and what not to do after knee replacement to help you more quickly and safely return to living an active life. Our team of board-certified, fellowship-trained surgeons specialize in knee replacement. If you are considering knee replacement surgery, you should schedule an appointment today. Preparing for knee surgery in advance will help you Emerge Stronger. Healthier. Better with the help of EmergeOrtho—Blue Ridge Region.