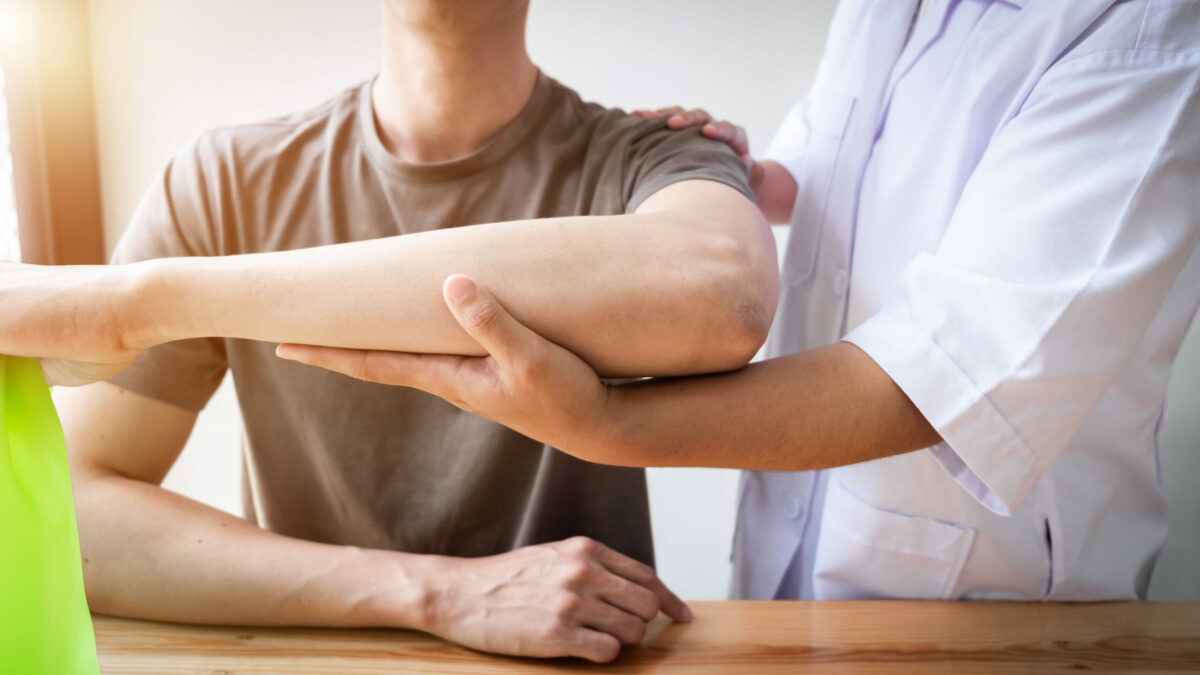 Shoulder impingement syndrome is a common shoulder condition, especially to those who play sports or participate in activities requiring overhead motions. It accounts for 44% to 65% of all shoulder complaints. Shoulder impingement syndrome occurs from improper alignment of the bones and tissues from the repetitive rubbing of the rotator cuff against the top of the shoulder (acromion). The symptoms include:
Pain in the top and outer side of your shoulder

Pain and tenderness in the front of the arm

Pain worsens when lifting your arm, especially lifting above your head

Pain or aching at night, which affects sleep

Weakness in your arm
Seeking treatment for shoulder impingement syndrome can help you return to your daily activities pain-free.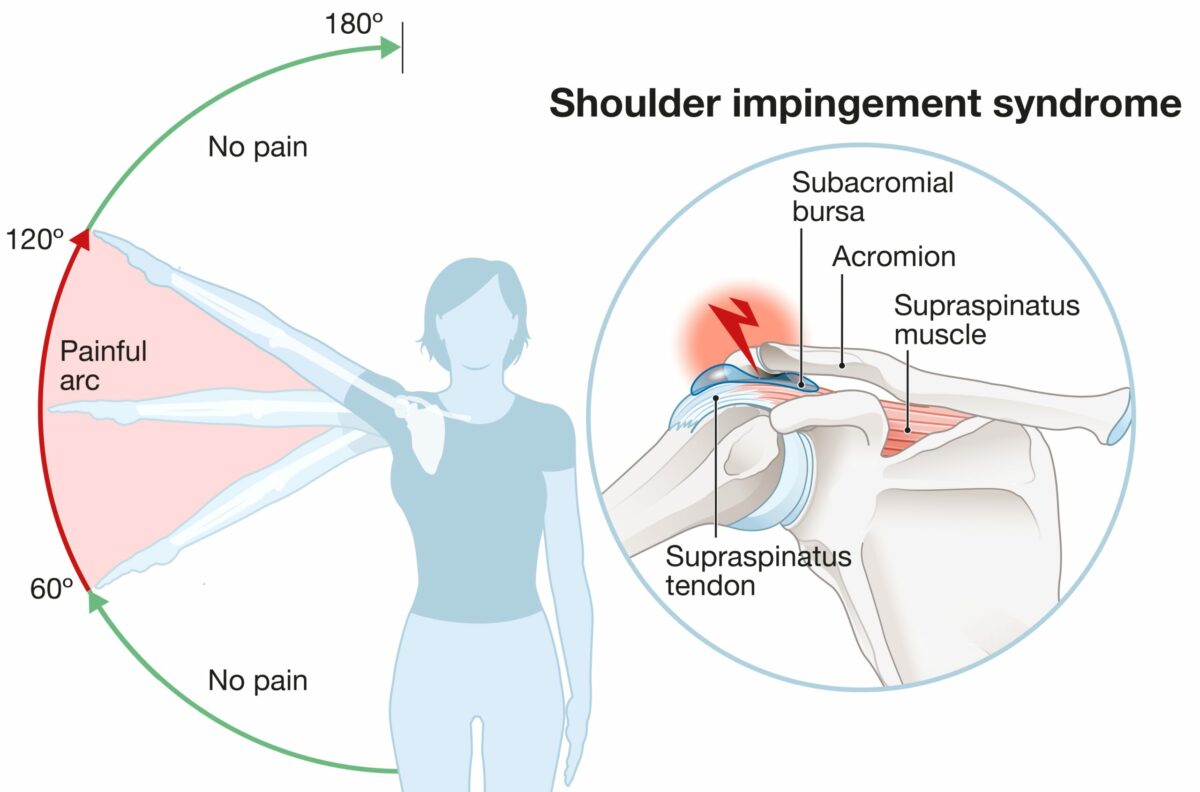 9
Shoulder Impingement Exercises
to Strengthen the
Shoulder Joint
Shoulder impingement syndrome can get treated in many different ways, beginning with RICE (rest, ice, compression, and elevation), and anti-inflammatory medications. One treatment option includes performing shoulder impingement exercises. One study found that impinged shoulder exercises increase function and reduce pain in 10 weeks.
The following are 9 shoulder pain relief exercises:
Shoulder Blade Squeeze

With your arms at your side, squeeze your shoulder blades together. Hold the position for 5 seconds and then relax. Repeat 10 times.

Doorway Chest Stretch

When standing in a doorway, stick your arm out to the side and place your forearm on the door frame. Slowly turn your body away from the arm. When you feel a stretch in your shoulder and pectoral muscle, hold that position for 5 seconds. Repeat 10 times.

Doorway Front Shoulder Stretch

Standing in a doorway, hold the top of the door frame with one arm. Slowly move forward until you feel a stretch in the front of the shoulder. Hold the stretch for 5 seconds and repeat 10 times.

Crossover Arm Stretch

Place one arm across your body and with your other arm, hold the first arm in the crevasse of your second arm. Pull toward your chest until you feel the muscles in the back of the shoulder stretch. Hold for 5 seconds, then relax. Repeat 10 times.

Lying External Rotation

Lie on the side of your good shoulder and bend your injured shoulder at 90 degrees. With your elbow tucked into your side, hold a light weight and slowly move the back of your hand toward the ceiling. If you do not have weights, you can use items in your house, such as soup cans. Perform 10 to 15 reps.

Lying Internal Rotation

Lie on your side with your affected shoulder underneath your body. Keep your elbow bent at 90 degrees and with a light weight, pivot your elbow toward your stomach so your hand points to the ceiling. Perform 10 to 15 reps.

Elastic Band Pulls

Loop one end of a resistance band through a door handle. Stand sideways so your affected shoulder runs parallel to the door. With your elbow tight to your side the entire time, grab the resistance band and pivot your arm from your side across your stomach. Perform 10 to 15 reps. When finished, turn so your noninjured shoulder runs parallel with the door. Still grabbing the band with the hand on your affected side and elbow still tucked, move the band from your stomach to your side. Perform 10 to 15 reps.

Wall Angels

Stand straight or in a squatting position with your back against the wall. Place the back of your hands against the wall and slowly slide your arms up the wall in a V shape, then slide them back down the wall. Keep your back and head against the wall the entire time. Repeat 5 to 10 times.

Chair Dips

Using a chair, tuck your elbows into your side. Hold your body up with your arms and bend your knees at a 90-degree angle. Bend your elbows to slowly lower your body a few inches and then push yourself back up. If this exercise feels too hard, scoot your legs closer to your body. If you start to feel pain as you lower yourself, stop a few inches before the pain ensues. Repeat 10 to 15 times.
Make sure you consult with your doctor before performing these shoulder impingement exercises and follow their instructions. Failure to do so could lead to injuring your shoulder more or even injuring another part of the body.
Emerge Stronger. Healthier. Better.
EmergeOrtho—Triangle Region's physicians have decades of experience specializing in the most innovative, groundbreaking methods to treat various orthopedic injuries and conditions including pain from shoulder impingement. Methods such as joint replacement or seeing a physical therapist can help heal your shoulder injury if these shoulder impingement exercises do not help. To visit one of our expert physicians, request an appointment, self-schedule, or call (919) 220-5255 so you can Emerge Stronger. Healthier. Better.