Physical therapy looks to rehabilitate patients recovering from an injury, surgery, loss of function due to pain, and other health conditions. However, some people feel hesitant about receiving treatment because sometimes there is pain after physical therapy. The pain and discomfort felt from physical therapy can happen for many reasons, but it should not deter someone from treatment. Physical therapists go through years of school and training with a focus on helping people return to their lives. They develop rehabilitation programs designed for each patient's injury and needs. The benefits of physical therapy should outweigh the small chances of physical therapy pain.
Physical Therapy Benefits and Why You Should See a Physical Therapist
Physical therapy is an all-natural treatment system used to treat the body. A study found that in a group of 6,300 adults, 78% preferred nondrug alternatives to treat their pain and, 41% found physical therapy to be the most effective treatment. Physical therapy has benefits that include, but are not limited to:
Reduced/eliminated pain

: Physical therapists design treatment plans to target an area causing pain, and focusing on those areas can limit or abolish pain.

Avoiding surgery

: Therapy can help eliminate pain or heal from an injury. If that is the case, a patient can evade surgery.

Improve mobility and balance

: Strengthening and stretching muscles can improve their function, allowing patients to move and stand better.

Increase heart and lung health

: The cardiovascular system can improve by performing exercises emphasizing conditioning and strengthening breathing.

Prevent injuries

: By strengthening the body, especially parts that may already be weaker, physical therapy can reinforce muscles, joints, or ligaments that can avert harm.

Reduce opioid use

: Opioids are designed for pain relief but they suppress pain, not eliminate pain. They are also highly addictive. By reducing pain with physical therapy, patients may also reduce opioid dependency.
Physical therapy is meant to help people return to a functional life. With an increase in activity, there may be some physical therapy pain that is actually normal.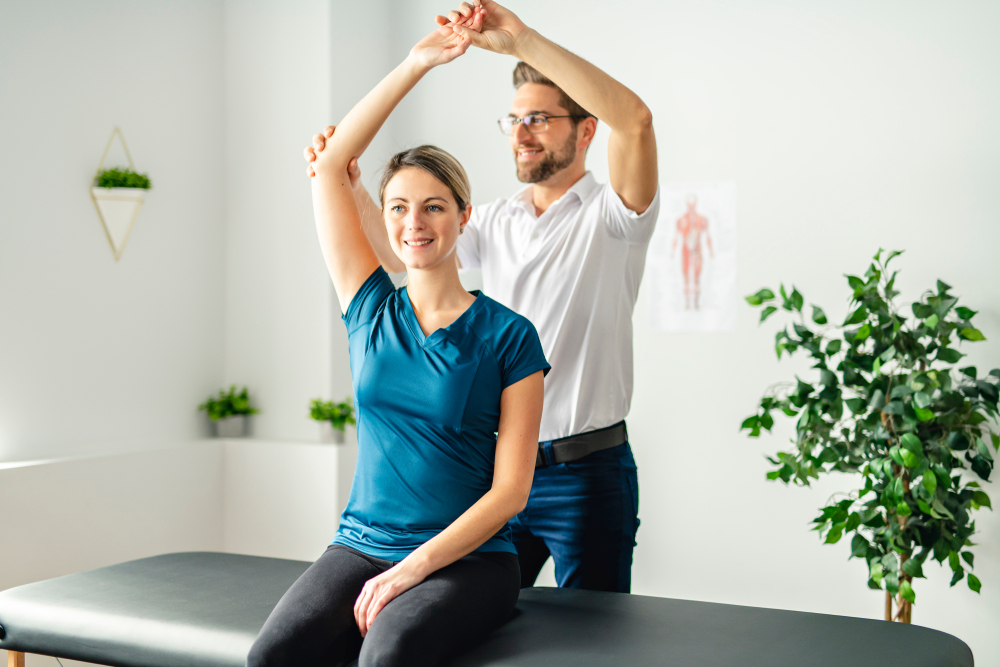 Normal
Pain After Physical Therapy
It is common for patients to feel some discomfort and soreness after a physical therapy session. Physical therapy challenges the body just like a standard workout program to build strength, muscle, or conditioning. For physical therapy to work, the body must train itself by pushing to its limits.
In a session, the therapist puts a patient through exercises pinpointing an affected area. In some instances, patients may never have done the exercises instructed by the therapist. In other cases, patients may not have used the affected area for weeks, even months. For example, if someone had a bucket handle tear to their meniscus, they may not have been able to use their leg muscles for a while. So, when they begin therapy, their muscles will not be as strong as they used to be, and the increased activity in that area can cause soreness.
What Happens If I Have
More Pain After Physical Therapy
?
If you are in the process of doing physical therapy and feel more pain after physical therapy or even sharp pain after physical therapy, then you should discuss the issues with your therapist. The therapist's job is to reduce pain, not create it. Your physical therapist should work with you to make you comfortably uncomfortable in a session, not in excruciating pain. Your therapist may recommend icing muscles after treatment.
Physical therapy should not worry you. By being in the hands of trained professionals, physical therapists are determined to give you the proper care to get you to return to the activities you love.
If you are looking for quality physical therapists to treat your injury, EmergeOrtho—Triangle Region offers a team of the best orthopedic specialists and physical therapists who are eager to give you the treatment you deserve. Request an appointment, self-schedule, or call (919) 220-5255 to Emerge Stronger. Healthier. Better.