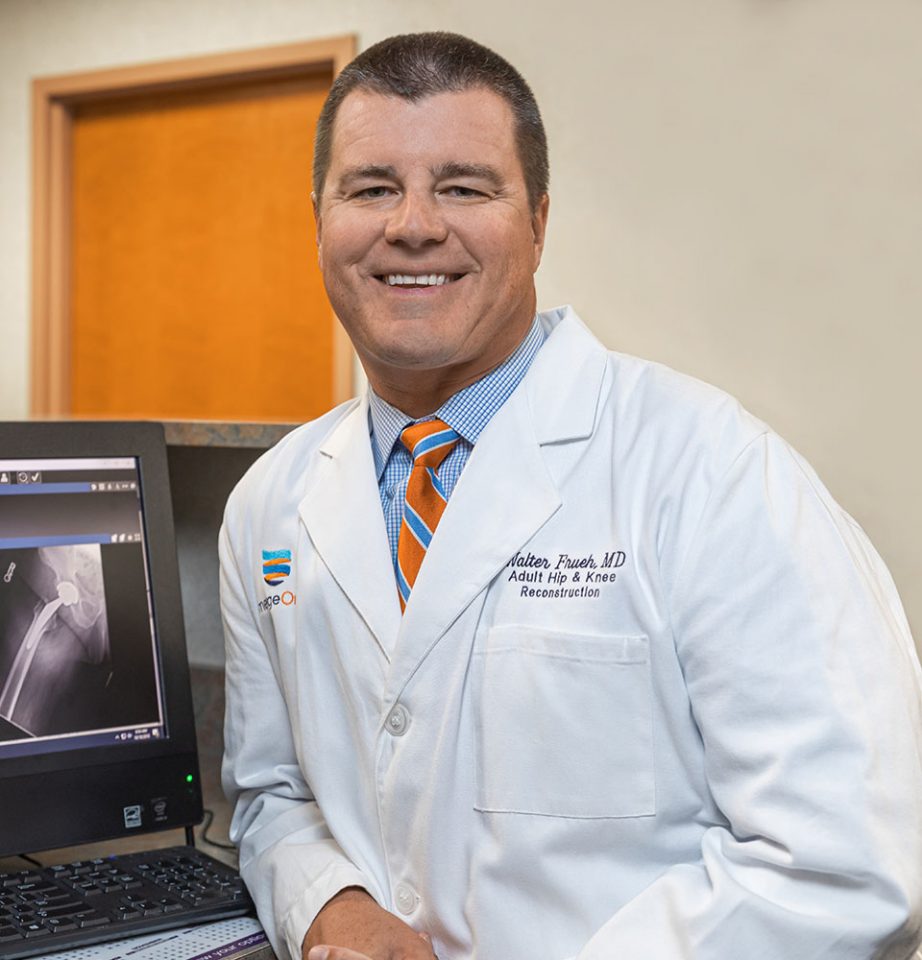 Walter W. Frueh, MD, an orthopedic surgeon with EmergeOrtho since completing fellowship in 2005 and active member of the Novant Health and Brunswick Surgery Center medical staffs, passed away suddenly on November 3, 2021. Our community has suffered a tremendous loss with the death of Dr. Frueh who was well known for his magnetic personality and was a friend to so many.
Dr. Frueh was relentless in the pursuit of perfection in the surgical arena to achieve the best outcomes for his patients and their families. Everyone was drawn to Dr. Frueh because of his passion, personality and a smile that lit up the room. He has always been admired by colleagues for his deep commitment to provide the very best care to his patients.
He will be sadly missed by the love of his life, his wife Megan, and his five children Molly, Sofia, Liam, Miles, and Ella Mai. He placed great value in spending time with his immediate family as well as his extended family. He was a passionate spear fisherman, deep sea fisherman, boater, and music lover.
Dr. Frueh was a graduate of Colgate University and Thomas Jefferson Medical School, Philadelphia, PA. He did his residency at Thomas Jefferson University Hospital and completed his fellowship in adult hip and knee joint reconstruction at The Rothman Institute in Philadelphia. Dr. Frueh routinely lectured and has educated hundreds of surgeons on minimally invasive hip replacement.
He was an outstanding and compassionate surgeon beloved by all. He was a true friend who filled the lives of those around him with laughter. He will be missed tremendously by all who knew him. The medical community lost a true giant with this gentle soul's departure.
For those who feel called to provide some financial contribution in Walter Frueh's memory, we are suggesting two opportunities:
Coastal Horizons Center, a local private, non-profit providing a continuum of professional services to promote healthier lives, stronger families, and safer communities. Coastal Horizons is a community partner EmergeOrtho has supported for several years.
Please click here to be taken to a special page to donate in Walter Frueh's memory.
College funding for the children is available through a gift to one or more children's 529 college savings plans. To donate, click the link below then select a child from the names next to "My Plans". Click the Gift icon on the webpage. Under gift method, please select credit/debit to have the funds sent directly to the 529 Plan for that child. To give to multiple children, repeat the steps above. Megan Frueh, as the account owner, and the child's name will appear to ensure your donations are recorded.
https://www.giftofcollege.com/profile/mfrueh/
For those who missed the funeral service or want to be inspired again by his life stories, the following link will take you to a video recording provided by the church: https://www.youtube.com/watch?v=S6tyzSGJZfg
The obituary from the funeral home may be found at the following link: https://www.andrewsmortuary.com/obituary/walter-frueh-md
Thank you for all the love, support and encouragement provided during these most difficult times.