What happens when an ankle sprain will not heal?
Ankle sprains are one of the most common orthopedic injuries. They can be painful, annoying, and even prevent you from participating in favorite sports and activities. In many cases, ankle injuries heal with the help of conservative treatments. What happens, however, when an ankle sprain simply does not appear to heal?
If your initial ankle sprain recovery lasts longer than four weeks, or appears to be getting worse, it is time to consult with an orthopedic expert. Anyone can search for a foot and ankle doctor in North Carolina, but not everyone receives the subspecialty, sophisticated orthopedic care they deserve.
Every year, hundreds of sprained ankles are treated by the EmergeOrtho—Triangle Region Foot and Ankle Specialists, and by our orthopedic urgent care providers. Do not let a prolonged ankle sprain keep you from what you enjoy doing most!
How Do Ankle Sprains Happen?
At EmergeOrtho—Triangle Region, our board certified orthopedic foot and ankle doctors work together to provide precision diagnosis and treatment of ankle sprains.
Common causes of ankle sprains include:
Sudden, unnatural movements

Traumatic impacts

Extreme overuse
You do not have to be an athlete to experience a sprained ankle. Sports and activities such as running, football, and soccer aren't the only causes of sprained ankles. A sprained ankle can be the result of something as unassuming as an awkward trip on the sidewalk, a job-related incident, or even an awkward misstep getting out of a car.
What Treatments Are Recommended for a Mild Ankle Sprain?
If you have experienced a mild injury to the ligaments of the ankle, simple steps treatment steps can be taken to treat the injury, which often include:
The RICE Method


RICE stands for rest, ice, compression, and elevation. Applying the RICE method to the injured area of the ankle can relieve pain and swelling and enable healing.

Medication


Over-the-counter, anti-inflammatory medication can reduce pain and swelling.

Assistive Devices


Compression wraps and braces can help to limit movement, preventing more damage to the ankle.
Even in cases of mild sprains, talking to your doctor about appropriate treatments should always be the first step you take.
How Long Does a Sprained Ankle Take to Heal?
Mild, low-grade ankle sprains will usually heal in one to three weeks with proper rest and care. Moderate injuries may take between three and four weeks. Because of limited blood flow to the ligaments of the ankle, more severe ankle injuries may take between three and six months to heal.
How Do You Treat a More Severe Ankle Sprain?
Treatment varies depending on the type and severity of ankle sprain. Most likely, treatment for a severe ankle sprain involves one or more of the following:
Immobilization


Your doctor may fit you in a boot or prescribe crutches for a period of time to prevent movement of the ankle joint and to allow the ankle to heal.

Physical Therapy


Our physicians often prescribe physical therapy as an integral part of healing a severe ankle sprain. It is a proactive approach to see if you can get better on your own or if more action may be needed. Physical therapy ultimately helps build back strength, range of motion, stability, and confidence on your feet.

Steroid Injections


If inflammation will not go away, following the treatment protocols listed above, your doctor may prescribe steroid injections.
When Is an Ankle Sprain More Than an Ankle Sprain?
Here is where working with a subspecialty orthopedic expert pays off. It is actually quite common to experience other injuries alongside an ankle sprain. A sprain might mask a more serious ankle condition like a fracture, stretched or torn tendons, torn ligaments, or a cartilage injury.
If you are experiencing any of the following symptoms, the first step is to consult with an orthopedic physician who specializes in the foot and ankle:
Persistent swelling

Continued feelings of instability

Problematic mobility on uneven ground

Ongoing weakness in the ankle

General discomfort
If these symptoms sound familiar, then you may be suffering from something more than an ankle sprain. If the sprain is not getting better, it is always best to be proactive.
Untreated, conditions can worsen into chronic ankle sprains and instability, both of which can be debilitating in the long term. This may also make arthritis of the ankle more likely, especially if the ankle continues to deteriorate.
Diagnostic imaging is the next step to determine the best method to treat your ankle. With an MRI, an orthopedic provider can work with you on an approach to treat any underlying conditions or extensive injuries.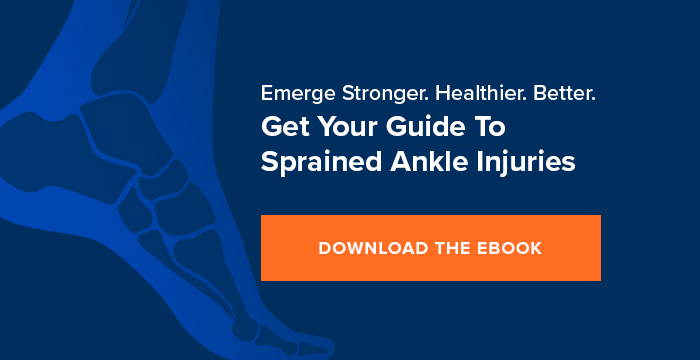 One area of concern linked to lingering ankle problems is chronic ankle instability. This condition occurs when ligaments and tissue cannot sufficiently stabilize the ankle. In these cases, they must be recreated. Advanced technology and better understanding of ankle ligaments have enabled EmergeOrtho—Triangle Region to offer sophisticated procedures to anatomically reconstruct the ligament. In-turn, ankle stability and foot and ankle pain are greatly improved.
In some cases, when conservative treatment methods have not been effective in addressing ankle sprains and painful symptoms, surgery may be recommended. An EmergeOrtho—Triangle Region doctor may suggest a minimally-invasive arthroscopy or ligament tightening procedure.
EmergeOrtho—Triangle Region's primary goal is to help you Emerge stronger. Healthier. Better.
Have you been searching online for a "foot and ankle Dr. near me," only to come up empty handed? If you have an ankle injury that continues to cause pain and instability, do not wait for treatment, self-schedule an appointment now Or, call one of our EmergeOrtho—Triangle Region offices any time at (919) 220-5255.